---
Baseball is a widely popular sport that has captured the hearts of millions of fans worldwide. Known as America's pastime, it has been an integral part of American society for well over a century, capturing the imagination and passion of generations. Baseball legends and iconic players have become household names, and the sport's memorable moments and traditions are deeply ingrained in the nation's collective memory.
Among the youth, baseball is very popular and serves as a common sporting experience for kids of all ages. Youth baseball provides an opportunity for children and teenagers to be physically active, develop teamwork skills, and foster a love for the game. The sport offers a wide range of benefits, including improved coordination, discipline, strategic thinking, and a sense of fellowship.
Youth baseball leagues and organizations are in almost every town and provide platforms for young players to learn and compete in a structured environment. The passion for youth baseball is evident through the significant number of children and teenagers who actively participate in organized leagues, tournaments, and school teams.
While there are great benefits to sports like baseball, there also comes risks like injury but also peer pressure that can lead to inappropriate behavior. So youth baseball players need some physical and spiritual protection to be with them in and out of the dugout. The saints can be that protection.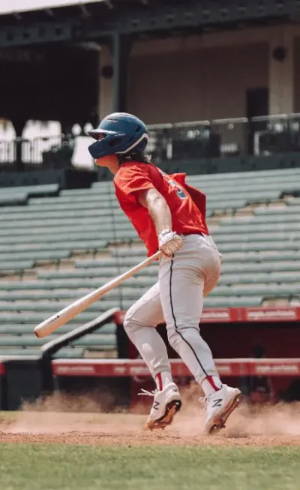 Who is the Patron Saint of Baseball
While there is no official patron saint of baseball recognized by the Catholic Church, there have been certain saints who are often associated with baseball in a symbolic or honorary manner. Three of those are St. Sebastian, St. Rita of Cascia and St. Christopher.
St. Sebastian was a Christian martyr who lived during the Roman Empire in the 3rd century. He is often depicted as a strong and courageous figure. He is recognized as the patron saint of athletes. St. Sebastian's connection to baseball players likely stems from him being a key Patron Saint of Athletes. Even though his association with baseball is loose, some individuals personally choose to invoke his intercession for baseball players, as they admire his strength and dedication.
St. Rita of Cascia was an Italian widow and Augustinian nun who lived in the 14th century known for her faithfulness and devotion to God. How she is associated with baseball is a wild tale of Texas oil and a small miracle.
During the 1920s, a group of Catholic nuns invested in an oil rig project in Texas that faced challenges with slow progress and insufficient funds, leaving the hired workers with little to do. In their downtime, they decided to set up a baseball field near the derrick and indulge in America's beloved pastime.
The nuns sought guidance from a priest on their investment in an unproductive oil well. The priest suggested they pray to Saint Rita, the Patron of Impossible Causes, and blessed a rose in her name. The rose petals were scattered from the top of the derrick and they named the well Santa Rita No. 1.
On May 27, 1923, while drilling had ceased, a remarkable event occurred just five days after Saint Rita's Feast Day. Oil gushed into the sky. The prayers of the nuns had been answered, as Santa Rita No. 1 had struck oil. The oil sprayed over the field, prompting the baseball players to drop their gloves and shift their focus to the newfound success. This little-known tale marks the beginning of Saint Rita's association with the boys of summer.
Although St. Christopher doesn't have a direct association with baseball or even sports in general, young athletes worldwide often seek his intercession. While traditionally recognized as the Patron Saint of Safe Travel, he is commonly invoked for protection and guidance in various sporting events. St. Christopher's legend is easily relatable, making him particularly popular among children. Additionally, his connection to ensuring the safety of travelers resonates with dedicated baseball players on travel teams who frequently embark on journeys to compete in games far and wide.
Click here for our list of Patron Saints.
Prayer for Baseball Players
Dear God, please take this moment in my life and use me to give you glory and praise. Take my passion for baseball, may it light up with your love. Take the hours of training and my commitment to excellence. Please use it to bring joy and inspiration to others. Take my desire to be the best baseball player I can be. May you speak your truth and hope through me. In Jesus name, Amen.
Prayer for Parents of Baseball Players
Strong and faithful God, as we come together for this baseball game, we ask you to bless these baseball players. Keep them safe from injury and harm, instill in them respect for each other, and reward them for their perseverance. Lead us all to the rewards of your kingdom where you live and reign for ever and ever, Amen.
St. Sebastian Prayer for Baseball Players
Dear Commander at the Roman Emperor's court, you chose to be also a soldier of Christ and dared to spread faith in the King of Kings, for which you were condemned to die. Your body, however, proved athletically strong and the executing arrows extremely weak. So another means to kill you was chosen and you gave your life to the Lord. May baseball players be always as strong in their faith as their Patron Saint so clearly has been. Intercess for us we pray, that our faith may imitate yours and that God may protect us as we seek to use the gifts He has given us to glorify Him this day. Amen.
Related Patron Saint Jewelry and Rosaries
Buy some beautiful St. Sebastian, St. Rita of Cascia or St. Christopher jewelry to keep you or your loved one close to the patron saint of baseball and be a symbol of your faith.